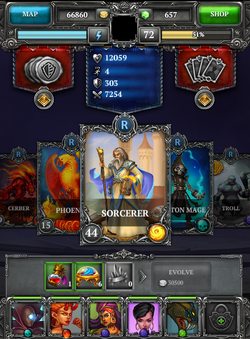 The Home area is where you can view the information about all your creatures.
The creatures are sorted from the rarest to least rare, counting from right to left.






All identical cards are placed together. To view the creatures, scroll the list to the right or to the left; the quicker you move your finger, the higher is the scrolling speed.
There is a flag above every card, which allows you to view the beast's characteristics. On the card itself, you can see the rarity, the name, the level of the beast and the element, to which it belongs.
The left side flag contains all collected Marks, while the right flag opens the collections screen.
Under the scrollable list, you will find the evolution information, namely the list of required artifacts and the Evolve button.
At the bottom are the slots containing the creatures currently in your army. You can change these by dragging a creature from the above list to any slot.
You can also view detailed information about the creature - when you select a card, it is zoomed in. After a second tap, the backside is displayed; it contains detailed information about the skills and their current development.
To return to characteristics view, tap on the card again.
To return to beast selection, tap to the right or left side from the card.
Ad blocker interference detected!
Wikia is a free-to-use site that makes money from advertising. We have a modified experience for viewers using ad blockers

Wikia is not accessible if you've made further modifications. Remove the custom ad blocker rule(s) and the page will load as expected.